Are you holding your breath for a market correction? Or maybe you're hoping for it to peak before selling. There is a lot of chatter on both sides. But it's important to know two things:
There are individual markets within each City and property type. Each doing different things. Consult with us to get the latest scoop – instead of relying on general tabloids.

Assess your abilities and your goals and make the decision to Buy or Sell for yourself. Why? Because you are in a unique circumstance and you alone know what's best for you, what you can live with and what you can risk. Did you know there are risks in both acting and hesitating? So know the market (by asking us). Know yourself. And accept risk in whatever you decide.

We would NOT wait to buy, personally. The market can easily make up another 10% in the next 12 months. That's $75k on a $750k property or 100k on a $1.0M. This probably prices many people out of the market they were hoping to enter. We know the 10-year price trend is up. Trying to time a dip is Russian roulette. More people lose than win doing that. Safer to lock-in.
The market is on fire in some areas namely the suburbs 30-60 Minutes from Vancouver including Bowen Island & Squamish (which we've been mentioning for 2 years). The inner-city single-family detached market has begun to show signs of leveling off in recent weeks after a 2-year run and having reached peak pricing again in many but not all neighborhoods. Downtown Vancouver condos are a good deal anticipating COVID to end by next year. Brentwood is still waiting to fully recover but is close to doing so.
Victoria is hot. Up and down the entire Island actually. And we expect this to continue longer than Vancouver's market run. People/families are exiting the Mainland. We have numerous clients and referrals from Vancouver relocating to Victoria due to better affordability and quality of life. If you want to invest, Victoria yields a higher rent/initial investment ratio than Vancouver and we expect price appreciation to be on par or better.
Regardless of where you are, the current trend is single-family detached first and townhouses/condos are trailing behind.
"But the mortgage stress test might be increasing. Won't that cool the market??" Here's the deal bubs. It might. But before then it'll probably cause a spike in activity and move prices higher. Plus, the regulators haven't committed to making that change yet. After doing so, the market could slow. And they could relax the stress test yet again. Causing another rush of buyers, pumping people through the system like they always do. BUT if they DO make changes to the stress test, it will reduce the average Buyer's purchasing power by 5%. Is it that significant? Only if you're right on the cusp of being able to afford your dream property.
We have an announcement. Warren is now licensed with Keller Williams Realty VanCentral's Victoria Branch and was ranked in their Top 5 Selling agents for the month of March. It was a difficult decision, but the simpler one for now. Opening a Bel-Air Realty Branch in Victoria would require more accounting, management and administration that would be on his plate. So for the time being, this is how we are serving our wonderful clients in Victoria. Make no mistake, we are still The Sing's @realestatewithrealpeople. Having said that, he is eager to learn new business systems and technology through KW to better serve our clients. Our commitment to the highest level of service to you remains the same.
We were having fun on Instagram the other day. Check out Toni's Video Reel skit, it received over 1500 views and is pure comedy.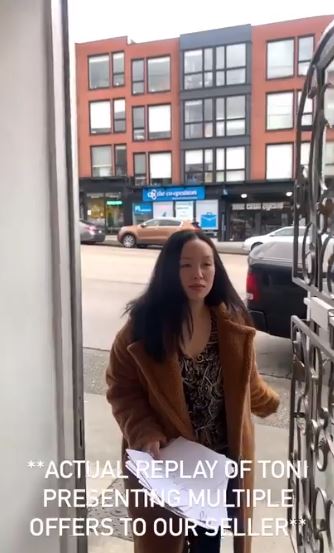 With the market being somewhat haywire, you need the right people in your corner. Let us know how we can help with anything real estate. We advise, you decide.
We hope you and your loved ones are well.
Always here for you,
Toni & Warren
@RealEstateWithRealPeople
604.808.3783
604.617.0225
Congratulations to our clients who listed and sold with us last month!
This spacious recently renovated 3 bedroom, 3 bath townhome features new kitchen cabinets, granite counters, S/S appliance, stone tile, and heated floors in the main floor and bathrooms.