The Fall Market is in full swing
October was a record month for sales in Greater Vancouver. And our business certainly reflected that. We sold many our listings on hand. Some of them even received bids from multiple Buyers at once! A few of our happy Sellers became excited Shoppers and were able to upsize from apartments to houses or relocate.
Upsizing is actually one of our preachings at the moment. The gap between big and small is the lowest it has been since before to boom of 2014-2017. So a great opportunity for growing families or early investors to get a foothold in a larger condo, townhome or piece of land. It's really a chance for you to increase the quality of your life if the need more space is on your horizon. Please ask us any questions you may have regarding the market or financing.
There are a LOT of numbers in the REBGV Statistics Package and unless you're heavily into economics and data, it might seem like a lot to weed through. We filmed a 10 minute video for you on some of the key stats and what they mean for you as a Buyer or Property Owner. (see below)
We work across Greater Vancouver to help our clients purchase and sell a full spectrum of property types offered. Check out some of our October sales below! We're proud of the diversity in our clients. Being able to connect and relate to all ages and backgrounds makes our life's work enjoyable!
If there is anything we can do to help you or a close family member or friend, please don't hesitate to get in touch with us.
We would love to discuss your needs and how we can be of service!
Warren & Toni 604.808.3783 604.617.0225
BIGGEST STATS ARE:
Sales volume was 9.8% above the 10 year average for Octobers
Sales were up 45% from Oct 2018
Sales were up 22% from September 2019.
3/4 of GVRD areas had price increases last month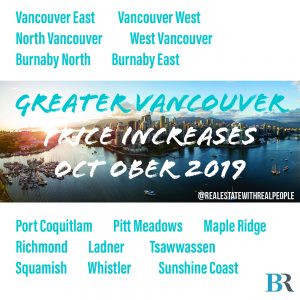 WHAT DOES IT REALLY MEAN?
The confidence among Buyers has increased GVRD-wide.
This has translated to a more competitive market for Buyers. If you are in the market, it's time to consult with your realtor, get a pre-approval and start viewing properties. Don't delay on this. Preparing now and getting in motion will set you up for future success.
Simultaneously, it means hope and light at the end of the tunnel for Sellers and property owners moving forward. We can now more accurately assess property and assure you that following proven a marketing plan will result in a timely sale.Watch our video HERE.